This book came out last month so imagine my absolute squee of delight to find out that I was still given an ARC through NetGalley.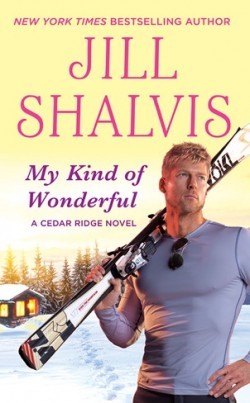 We met Hudson "Hud" Kincaid in
Second Chance Summer
. He's one part of the "other families" that his father scattered around the country. He and his twin had a blow-out argument and Hud hasn't really spoken to him since then though he's desperately worried since his twin is in the army and they're never really sure whether he's alive or not. Meanwhile, their mother, never super-stable to begin with is now teetering on the edge of what seems to be Alzheimer's or some sort of dementia.
Bailey Moore has her own issues. She just wants to live life to the fullest and complete her list (
not
a bucket list, BTW). Though she realizes that Hud's mom might have invited her to paint a mural at the lodge under false pretenses, Hud's family quickly jumps on the idea, throwing Bailey and Hud together. And sparks have been flying since they first met on a double black diamond so Hud doesn't see this as a good thing, spending more time with a woman who is bound to change his life.
But they do get together and there is some give and take. I liked Bailey well enough but I wish we had seen more growth. Hud's hidden edges were a nice touch. I didn't love the end but this is definitely a book that regular Shalvis readers will enjoy.
Follows:
Second Chance Summer
Followed by:
Nobody but You