I had read the first book in this series ,
The Unexpected Duchess
, and noted that, while I thought the author was trying to make the main characters Lucy and Derek similar to Beatrice and Benedick, the honor belonged more to her friend Jane and the man I called Lucy's brother, Derek. Well, this is their book only Derek is actually Garrett, a very good cousin of Jane's and they more or less grew up together. And while I think the author was still shooting for a play on "Much Ado about Nothing," it just didn't work for me. I did enjoy most of the book however and made it all the way through to the HEA.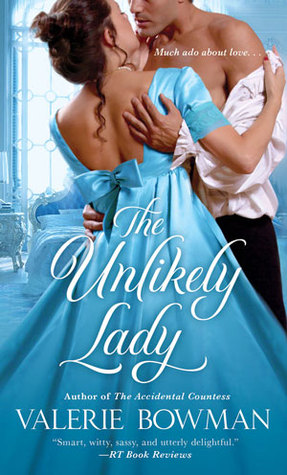 Jane doesn't want to get married. She is a student of Mary Wollstonecraft and thinks that men are thoroughly unnecessary, even pests. However, her mother thinks differently. Which is why Jane resurrects the fictional Miss Bunbury from the second book in this series, makes her a Mrs., and creates a fictional chaperone so she can attend the first week of Lucy's houseparty by herself.
Garrett, for his part, is an avowed bachelor. He is also a big softy who has been supporting the widow of his dear friend for years. Mainly because he feels responsible for the man's death. Now, the widow has invited herself to his cousin's party, mainly to follow him around. Somehow, she seems threatened by Jane. Is it the fact that at the masquerade ball, Jane and Garrett kissed (well, rather more than that) not knowing who the other one was?
I honestly think I would have enjoyed the book more if it had just been an exploration of Jane and Garrett's relationship. Isabella, the widow, was a complication that didn't need to happen. She helped bring about the ending... sort of... but it was the ending given to Hero and Claudio in the Shakespeare play so I was rather confused.
This book comes out next Tuesday and is an okay read, but if you're a fan of the Bard, this might not be the book for you.
Preceded by
Playful Brides #1
The Unexpected Duchess
(I DNF'd the second book)