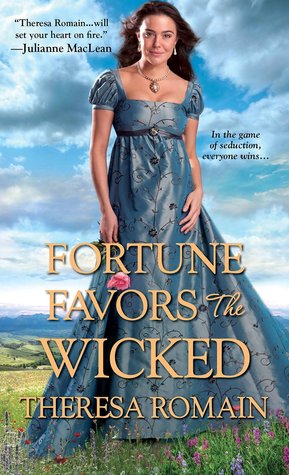 When I requested this book as an ARC, I didn't realize that this was part of a new series (I hope) and not part of the "Romance of the Turf." I was really looking forward to that next book and that may have dimmed some of my excitement in this book. But, hey, blind hero, courtesan heroine... this is definitely not your average romance novel.
There was a LOT going on in this story though. Both Charlotte Perry (also known as Charlotte Pearl, La Perle, and Mrs. Smith in the course of this novel) and Benedict Frost, currently on half-pay from his Majesty's navy, are looking for the gold recently stolen from the royal treasury. The reward for finding said gold is 5,000 pounds, a princely sum. Charlotte could retire and set her daughter up for life. Benedict would like to sell his stories but the London publishers have all told him that, though based on his own life, no one will believe that a blind man could travel the globe. So instead, he's hoping to get the reward money and set himself and his sister up for life.
There is also a villain plotting against Charlotte, a murder, and, oh, just a LOT going on in this book. It was still worth a read and I am very much hoping that we will see more of what happens between Georgette (Benedict's sister) and Lord Hugo (Benedict's friend, younger son of a duke).
This book will be published March 29.
Followed by
Passion Favors the Bold