In the 1600s, the Duke of Hart's great-something-grandfather seduced a woman who then cursed the family. If the men didn't marry for love, they wouldn't live to see their heir born. Also, she set up a spinster house which was to be available to any single woman, past a marriageable age, along with a stipend.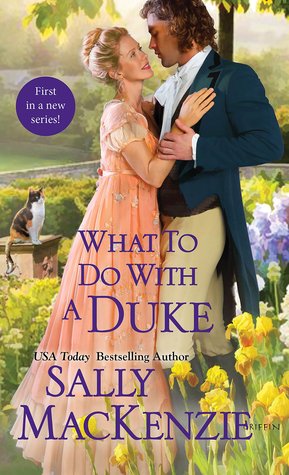 Miss Hutting, Isabelle "Cat" Catherine, is the oldest daughter of the village vicar. Most of her nine siblings still live her parents' tiny house and she is desperate for privacy. So when
the previous resident leaves rather abruptly
, Cat knows that the house is meant to be hers. Too bad two of her friends are also anxious to have the house. And too bad the handsome Duke really seems to believe in the curse...
While not my favorite MacKenzie (I didn't buy that her friends would be so vindictive), I'm liking the setup for the series and am already ready to read the next book in the series.
This book goes on sale next Tuesday!