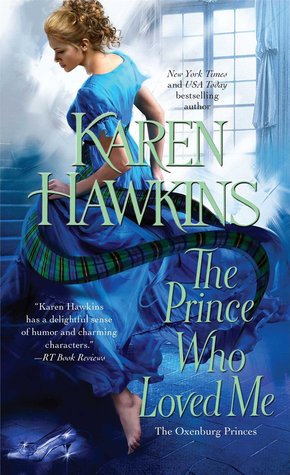 Image linked from Goodreads
I normally don't like the historicals set in Scotland (why, I couldn't tell you. I think I OD'd at some point and haven't gotten back to them.) So why request this book from NetGalley? I really do like Karen Hawkins and didn't notice the setting. But I still enjoyed this book.
We have two strong characters, Prince Alexsey Romanovin and Bronwyn Murdoch. When they first meet, neither knows who the other is. It's a really sweet meet-cute.
Alexsey is only interested in Bronwyn because he thinks she's a maid (someone he can dally with.) Bronwyn, at twenty-four, with a disastrous season behind her, is not at all interested in marriage but her station makes her out of his reach.
The prince was a bit overbearing and the machinations of both their families were a bit much for me. Also, I would have liked to know more about their life once they got back to the gypsies, but I overall liked Bronwyn and Alexsey overall and think that regular Hawkins readers will as well.