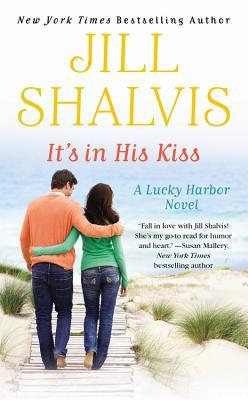 Image linked from Goodreads
Becca Thorpe has literally moved across the country to get a new start. A currently-blocked jingle writer, she's landed in Lucky Harbor, hoping to find someplace to find out who she really is. See, up until now, her role in life has been to keep her brother on the straight and narrow.
Sam Brody likes living in Lucky Harbor. Even being on the Pinterest board of Hotness run by the town's unofficial mayor has it's perks. When Becca moves to town, he's by turns annoyed with, intrigued with, and bemused by her.
Both of our characters have had rough family lives. Sam, on the other hand, lost his mother at an early age and had the type of father that got him landed in foster care. A lot. His only saving grace came in the form of his partner Cole's mother, Amelia. She saw Sam and decided she was his son. Becca was always put in charge of her younger brother, he always came first. And when his life and career went down in flames, she felt the guilt.
I loved that these two characters were able to have some just-for-fun sex. Yes, they ended up getting tangled but it didn't start out that way, and neither one of them felt any guilt for it.
It looks like most people are absolutely loving the book and I can unequivocally say that, if you like Jill Shalvis, there is no reason to skip this book.
Unfortunately, I had some issues with the book.
What was the deal with Sam fixing all of Becca's parental problems in, like, 10 minutes? Or at least the space of a couple of sentences. This was a lifetime of problems and one low-toned conversations has her mother with a teary-eyed request for forgiveness and Becca just caving. And I can't stand when female characters talk about wanting to have a no-strings relationship and then get all pissed off when the man doesn't reciprocates. I'll admit that Sam's actions seem to indicate that he has stronger feelings but you can't blame a guy for backing off when there's been no deeper discussion. YET EVERYONE IN TOWN DOES. Of course, am does match it with, "I won't sleep with my employees" and then totally doing it so maybe it does balance out? And the rape? What the heck was up with that glossing over?
I will also add that if you don't like excruciatingly embarrassing, public declarations of love, this book will not have an enjoyable ending for you.
Next Book in the Series:
He's So Fine