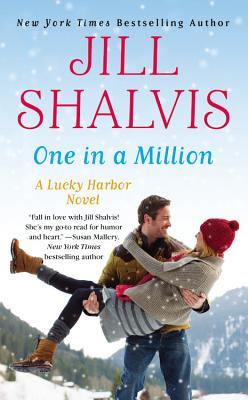 Image lnked from Goodreads
While the last few books in the Lucky Harbor series haven't exactly tripped my trigger (they were okay, but not my favorite Shalvis books), this book finally got back to the things I love about this author, her character development and their witty banter. I could have used less shoehorning of characters from early in the series (Shalvis has remarkably avoided this in the past) but overall, I really did like this book.
Callie Sharpe is back in the town where she grew up. Though the proprietor of a very popular wedding site as well as being a wedding planner, Callie doesn't believe in true love. Not since her first crush left her at the altar on the day of their wedding. Now she's checking up on her grandmother (town gossip and social media maven, Lucille) and starting to develop some majorly grown-up feelings about her high school crush.
For his part, Tanner Riggs is not in a good place for love either. His fifteen-year-old son, one conceived in a heated night of high school sex, is back in town. And, not only does he have the regular teenage mulishness, he has his dad's bad attitude. I absolutely adored the morning meetings that Callie and Tanner were having. Doughnuts and coffee while Callie is professionally dressed for Skype conferences and in comfort clothes from the waist down? Majorly cute.
Boy, was I getting ticked toward the end of this book. Callie, who protested throughout the book that she didn't believe in love was ticked off that Tanner didn't introduce her as his girlfriend. When Lucille pointed out this hypocrisy (and Callie admitted it), I could have cheered. An absolutely awesome way of dealing with a trope that needs to Go The Fuck Away.